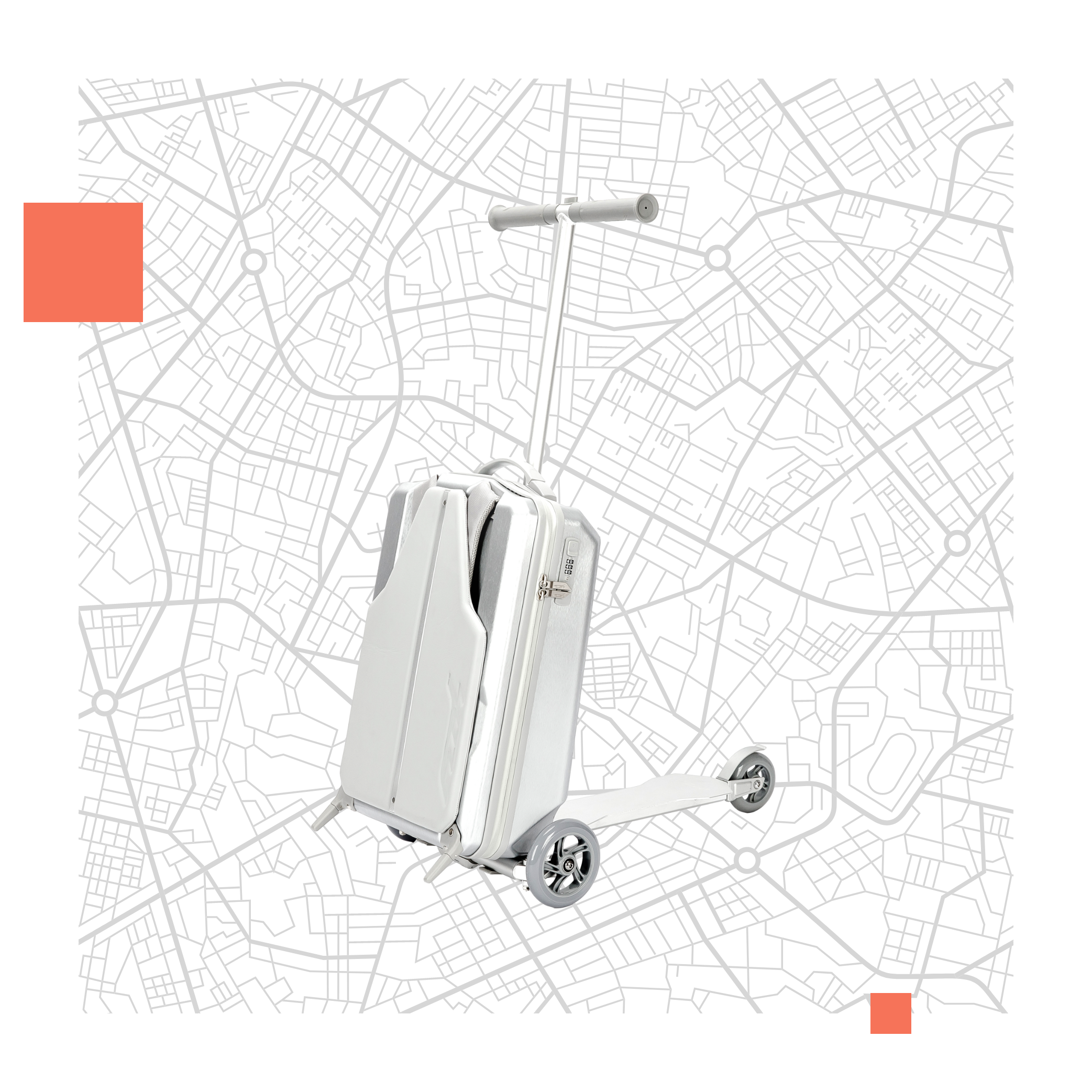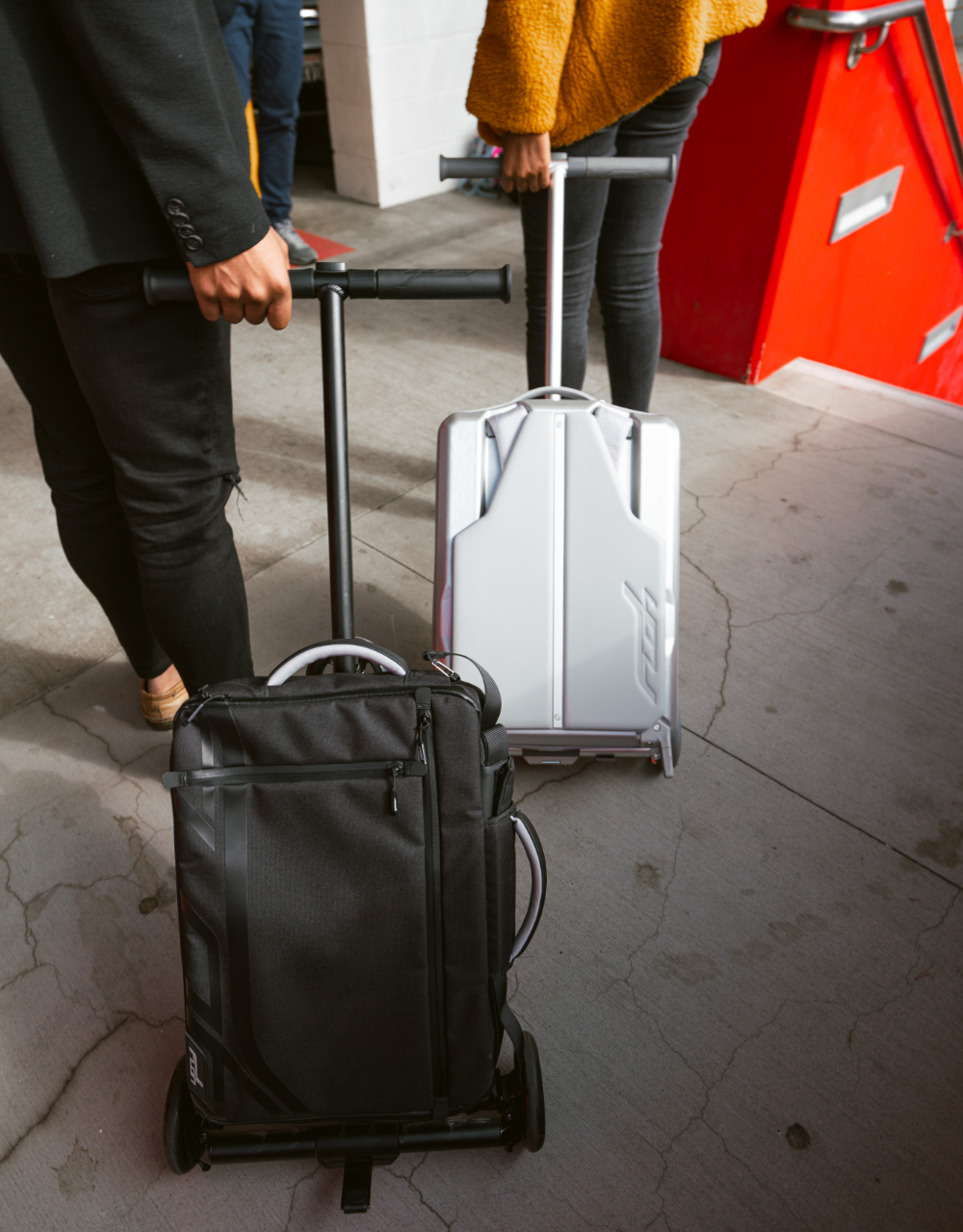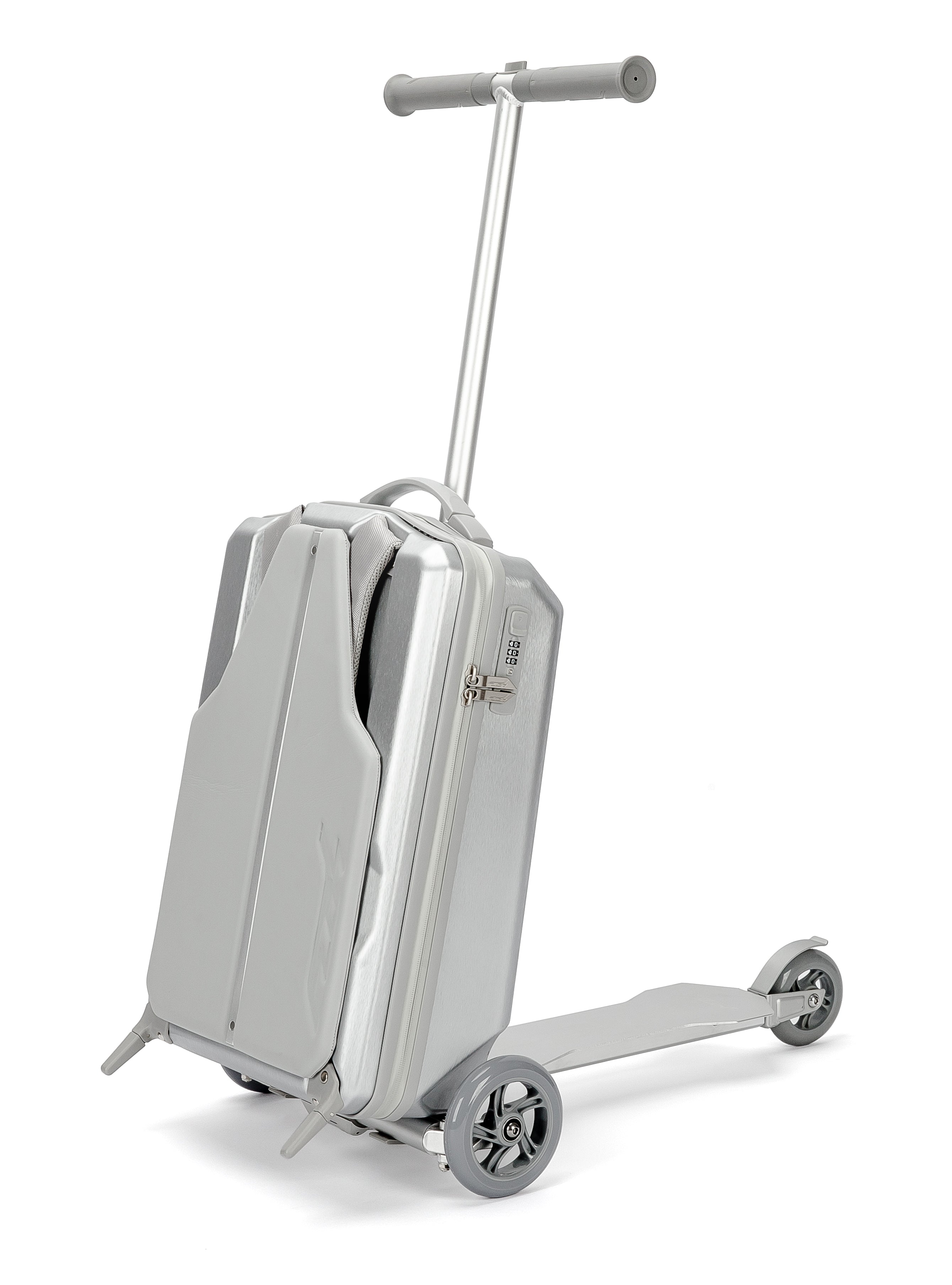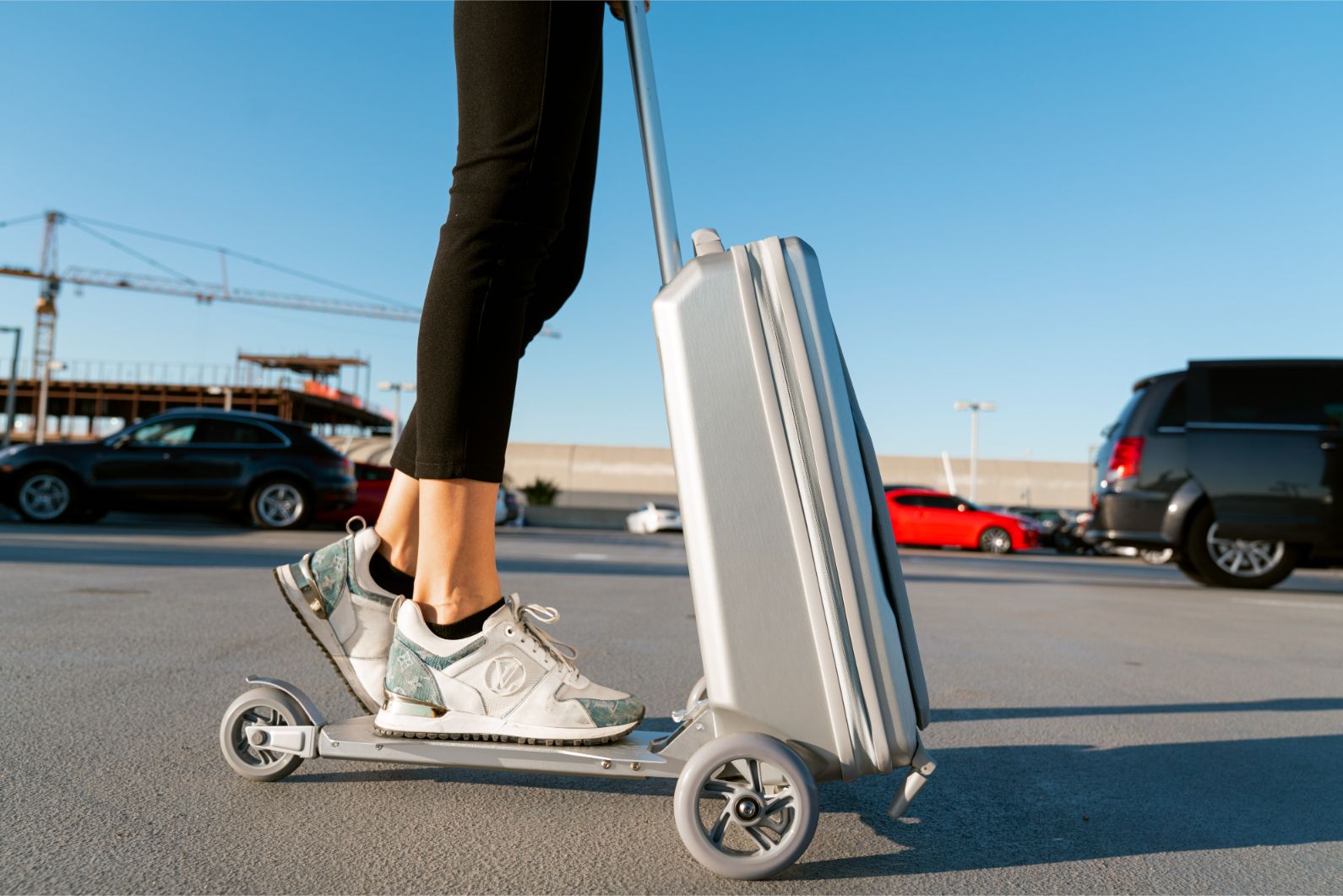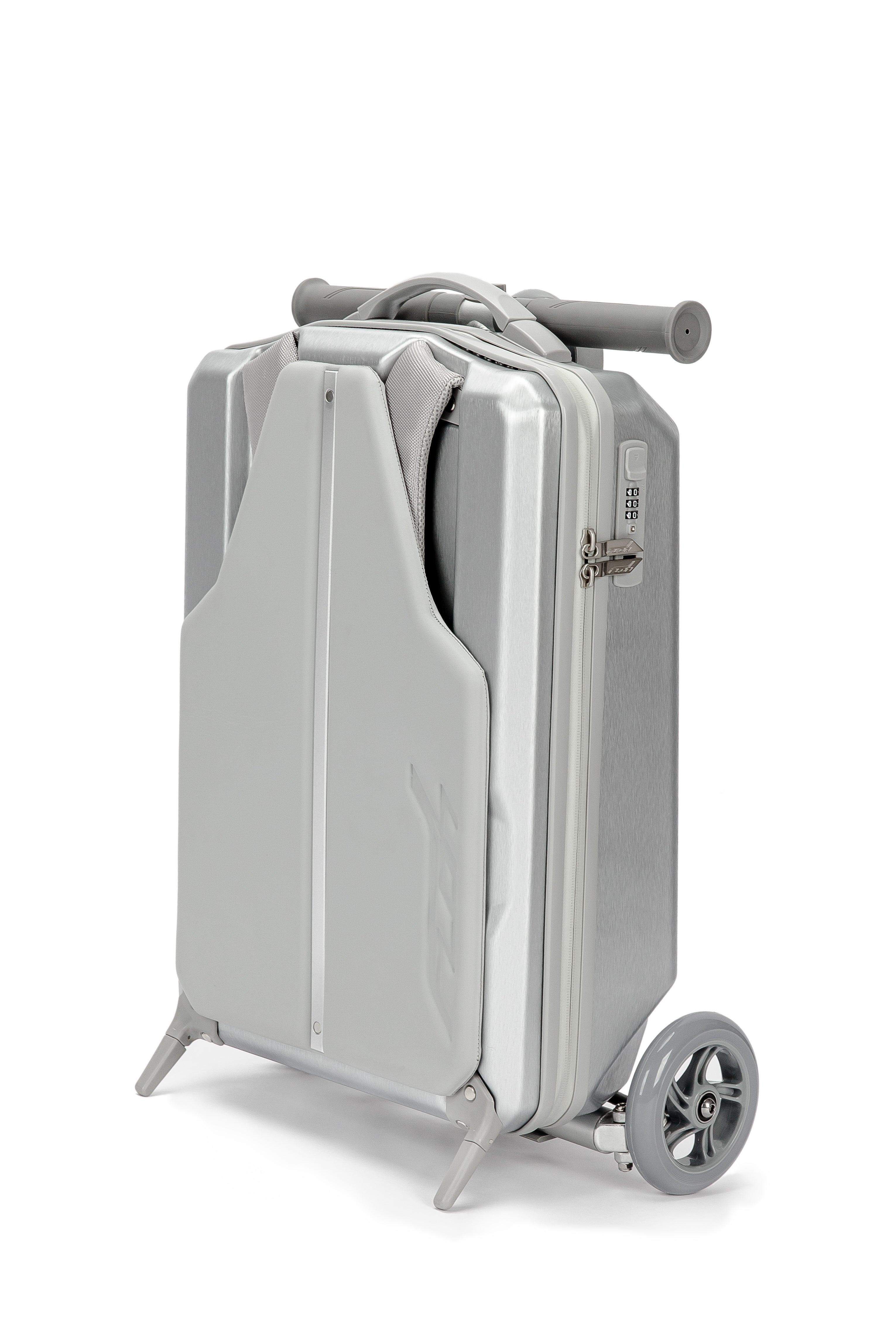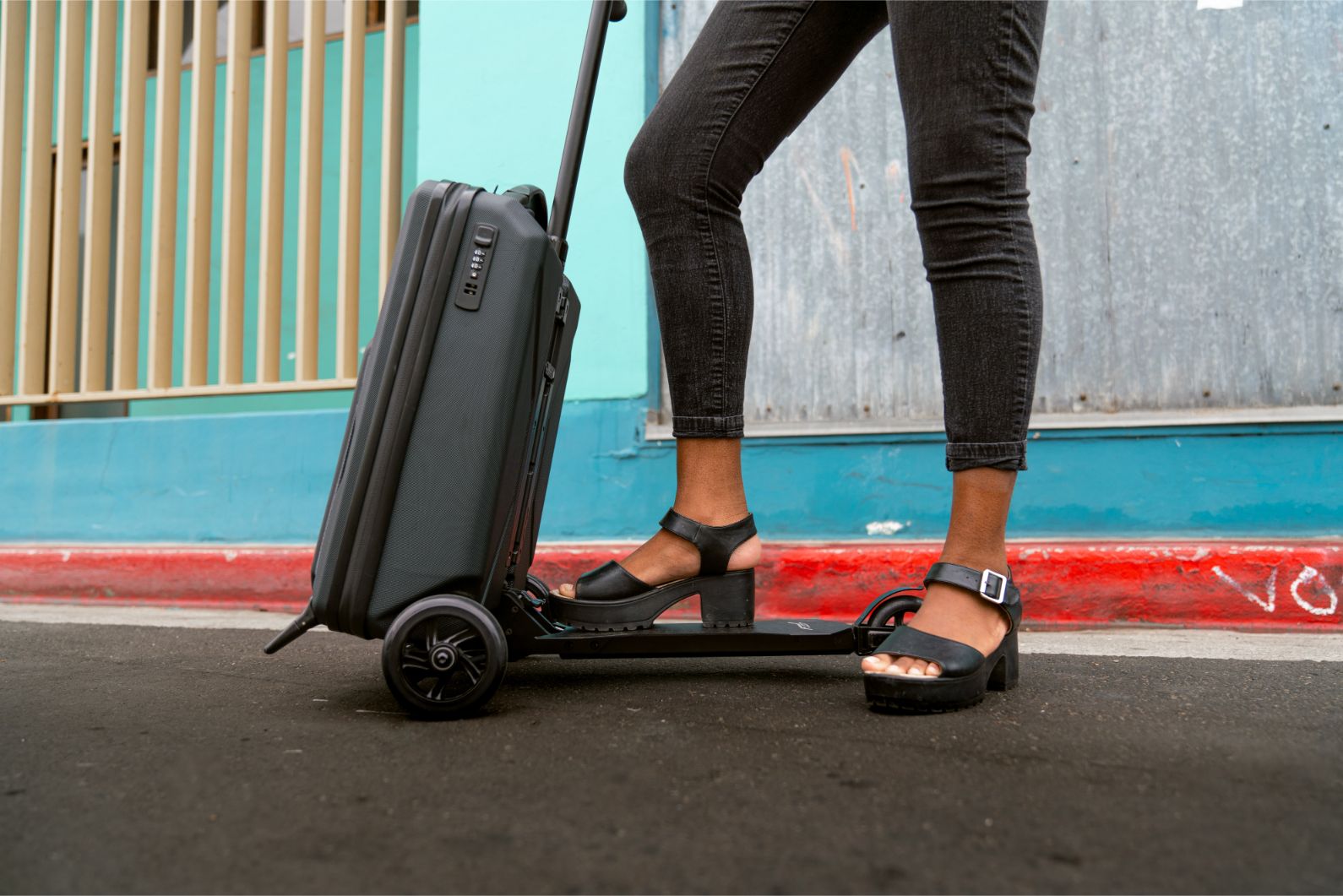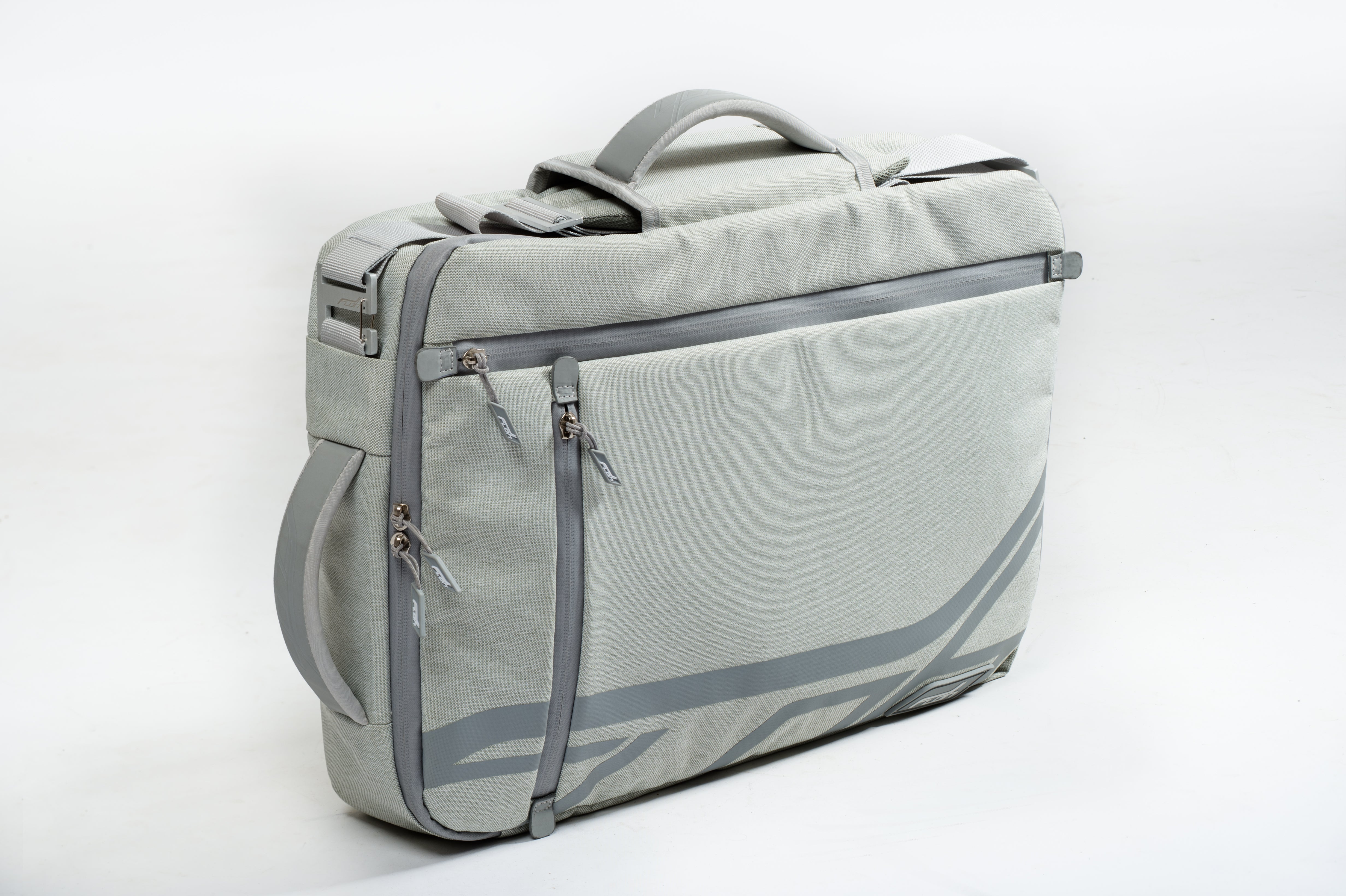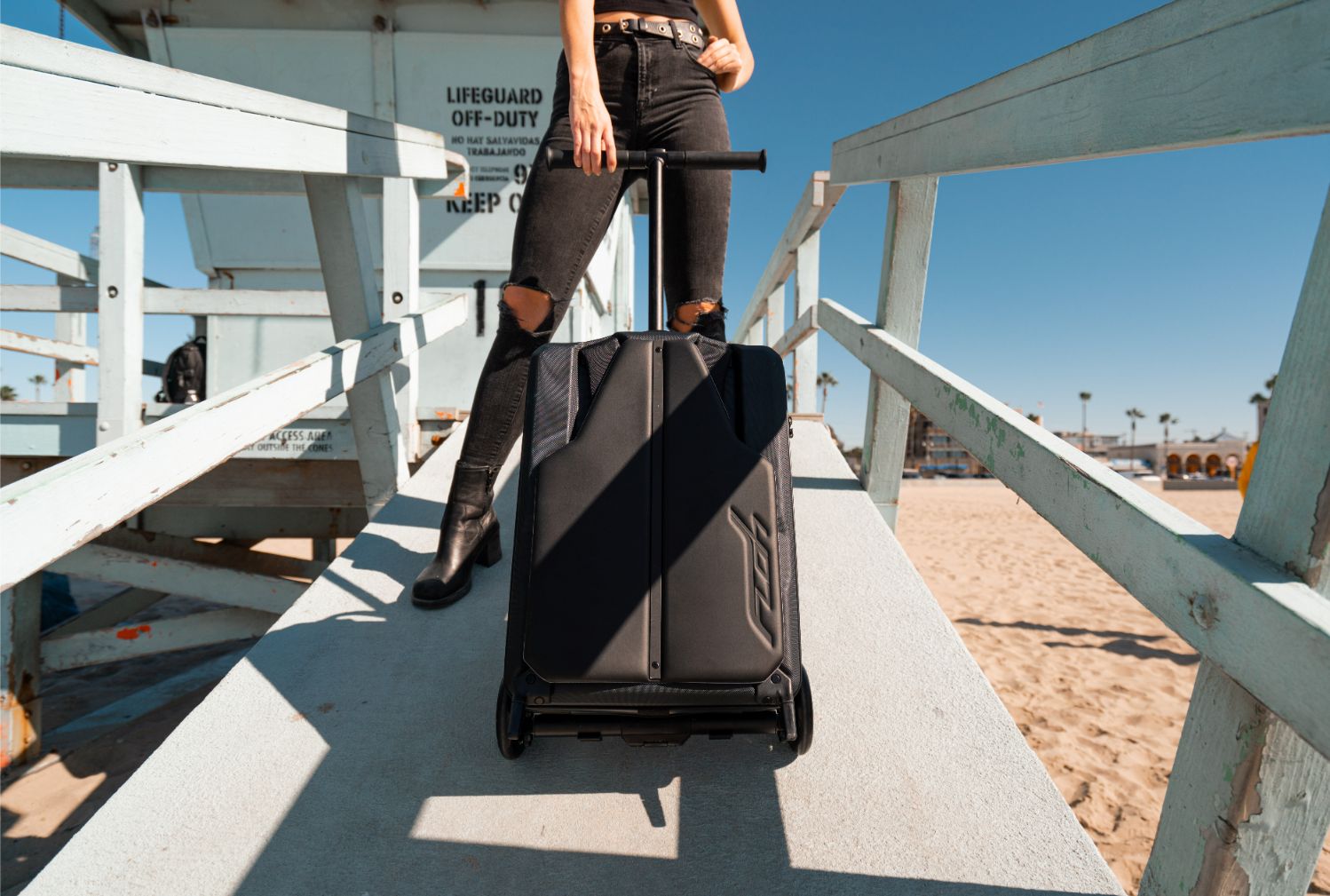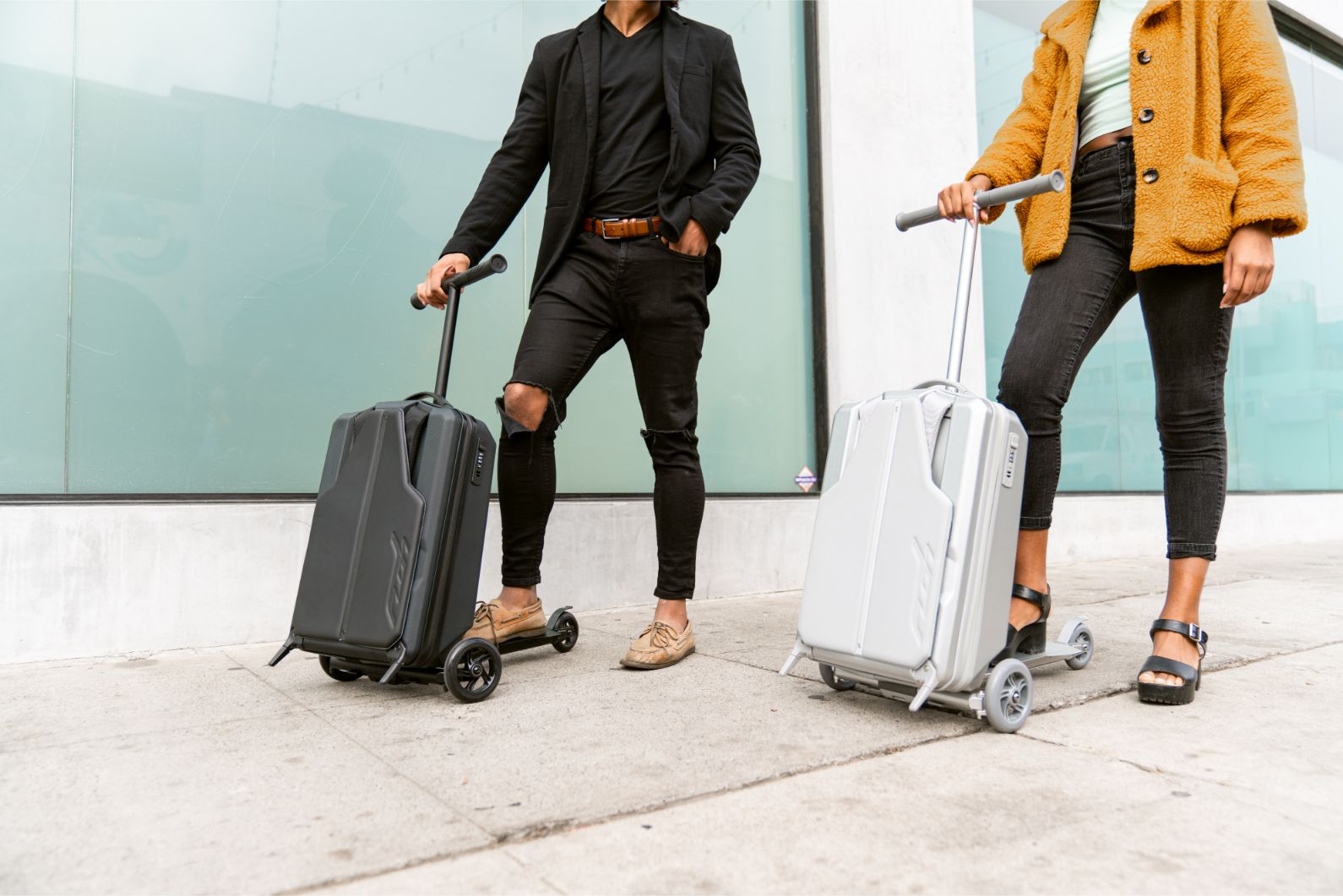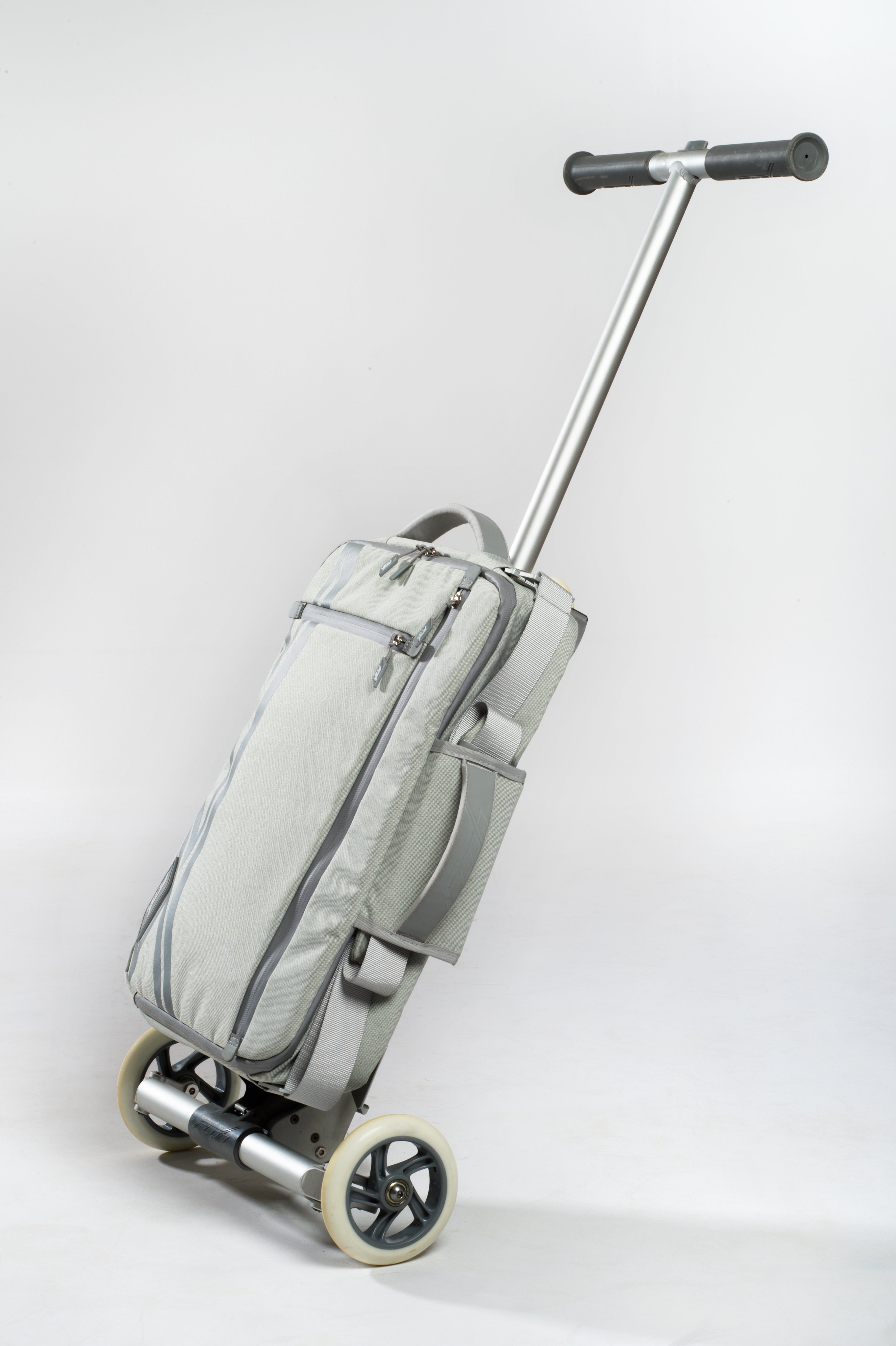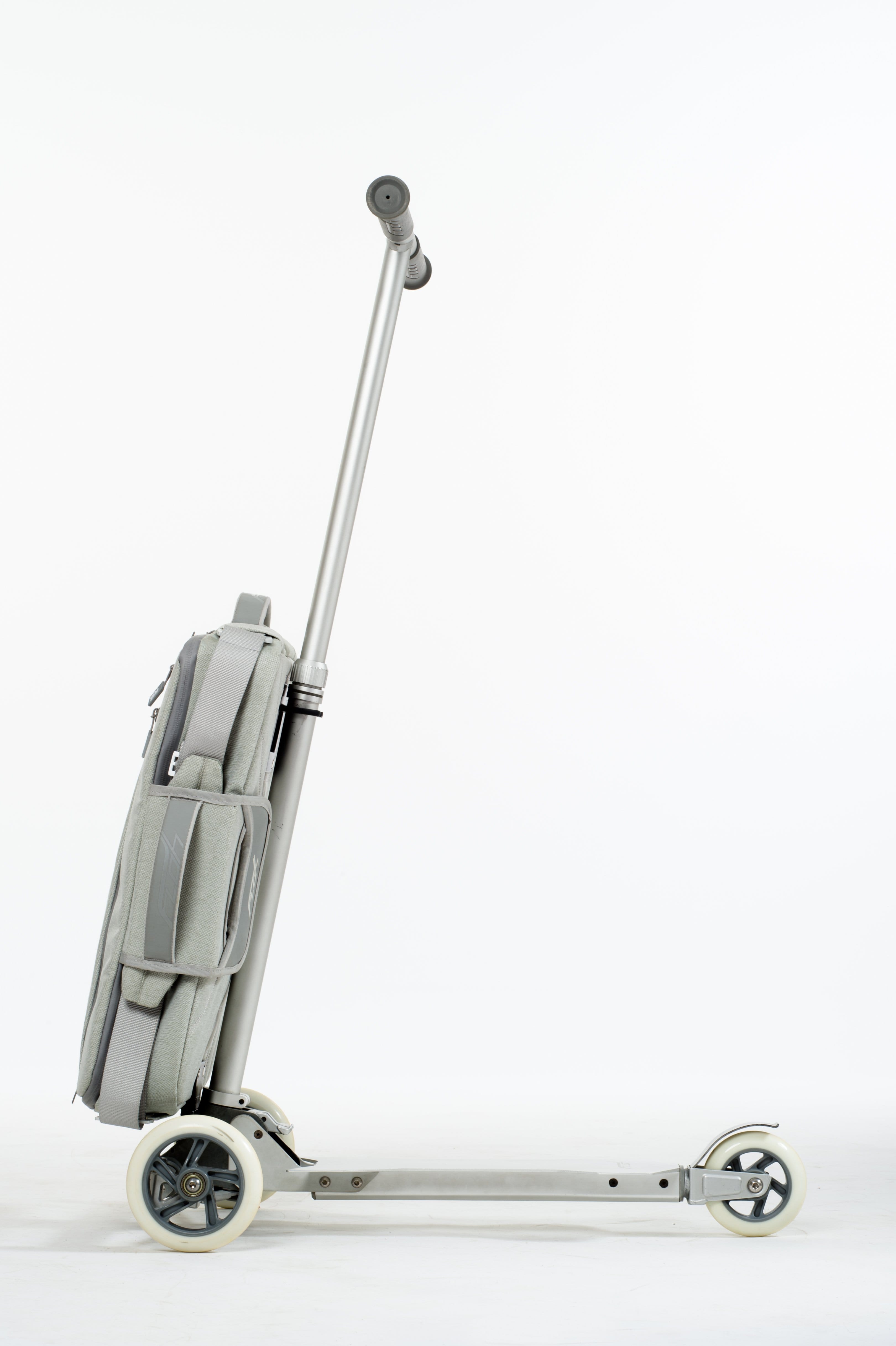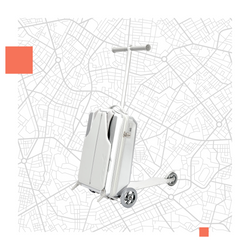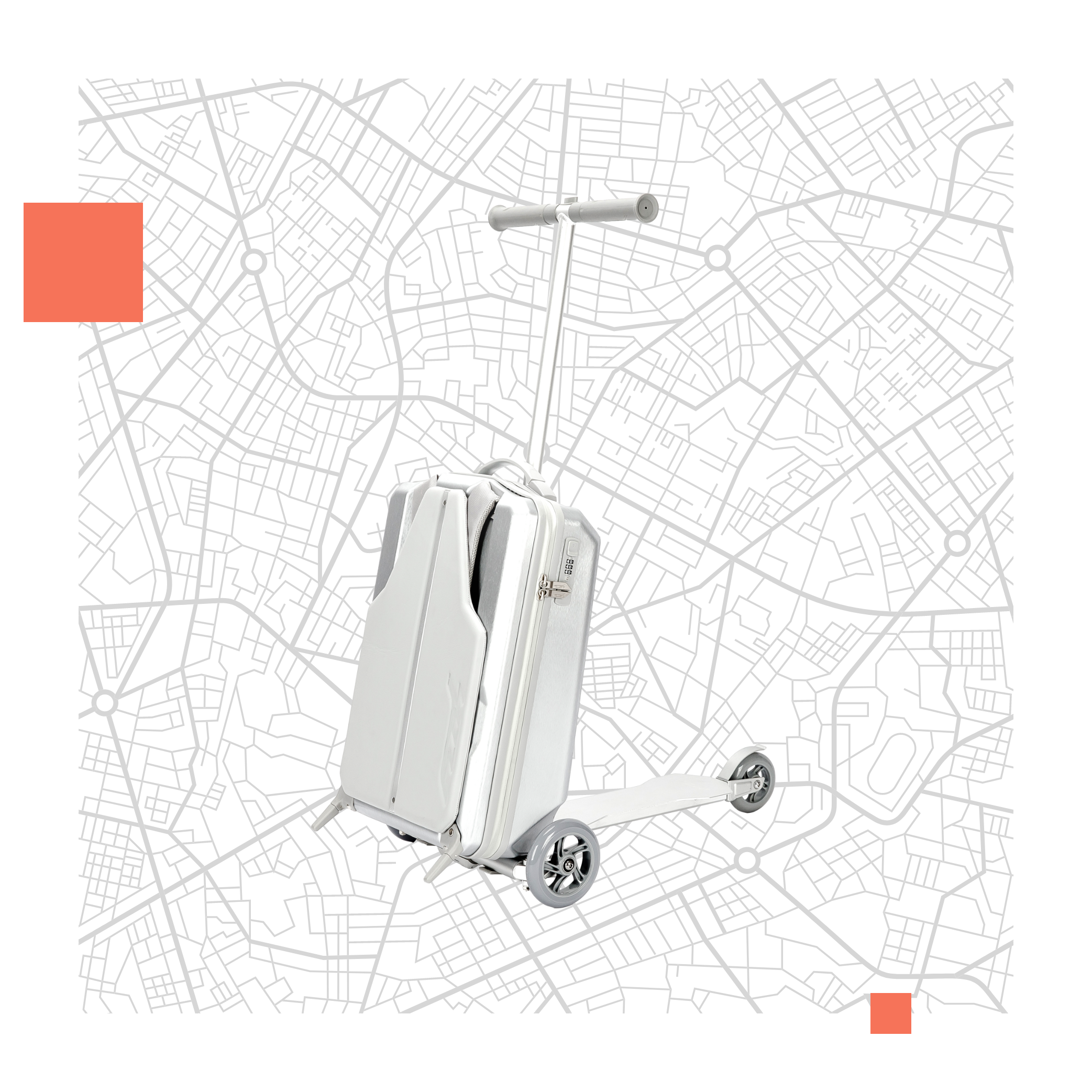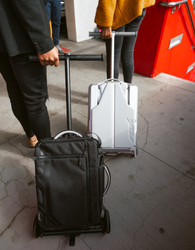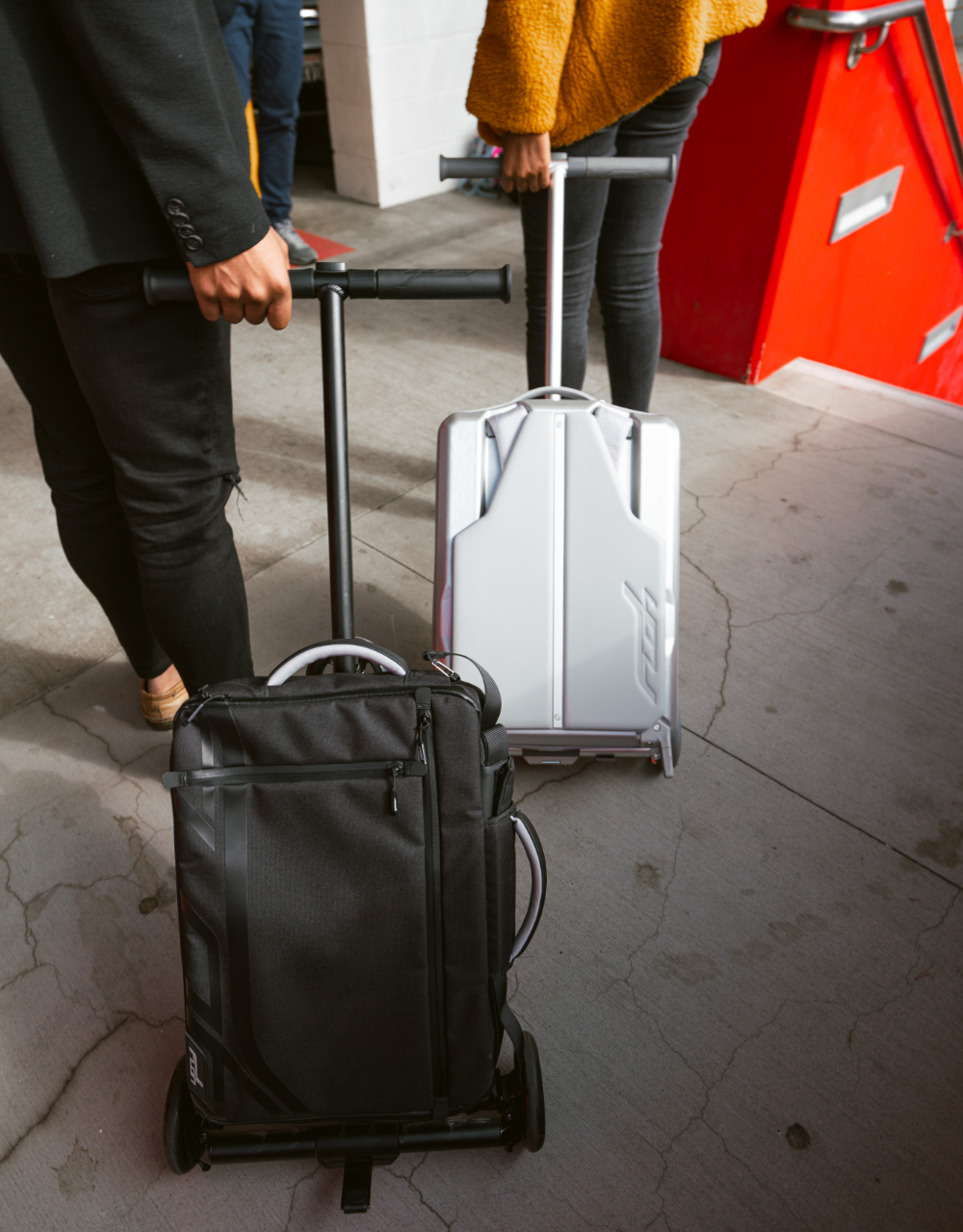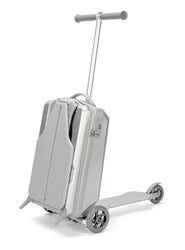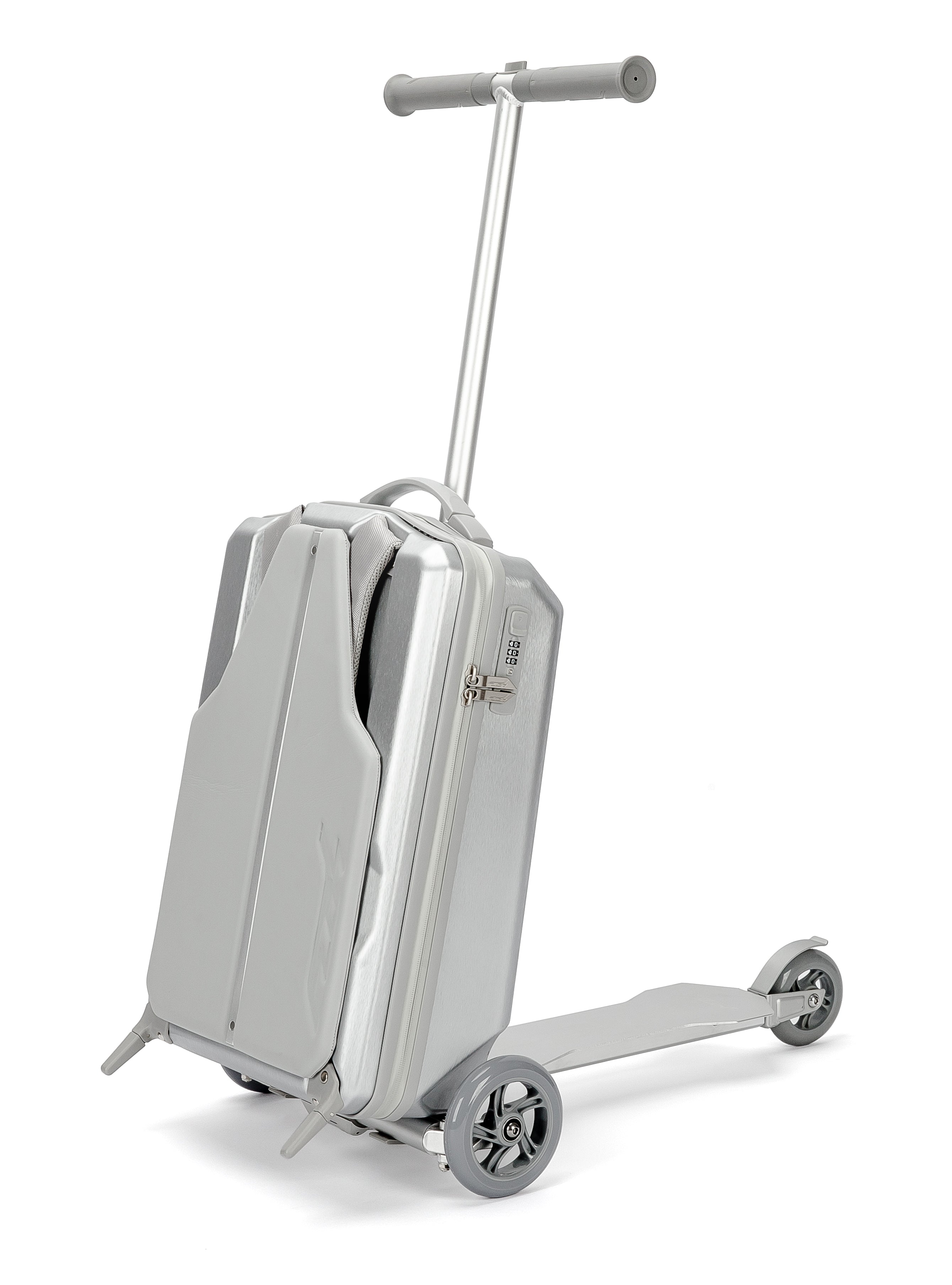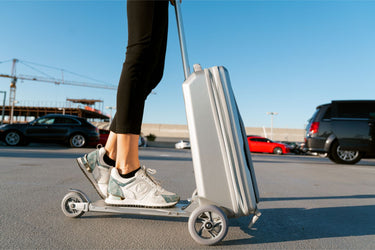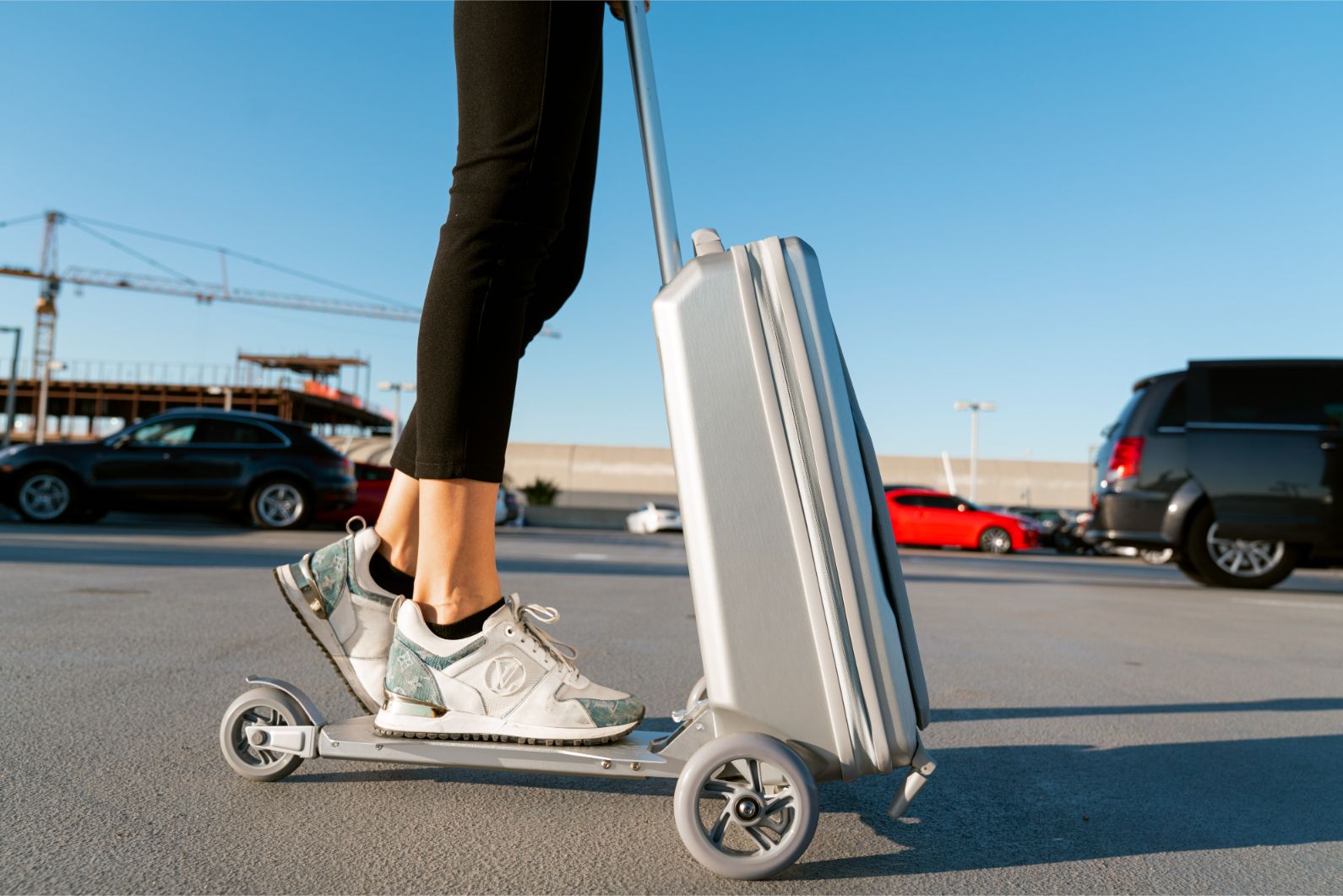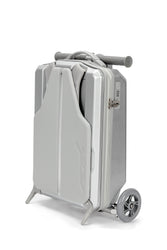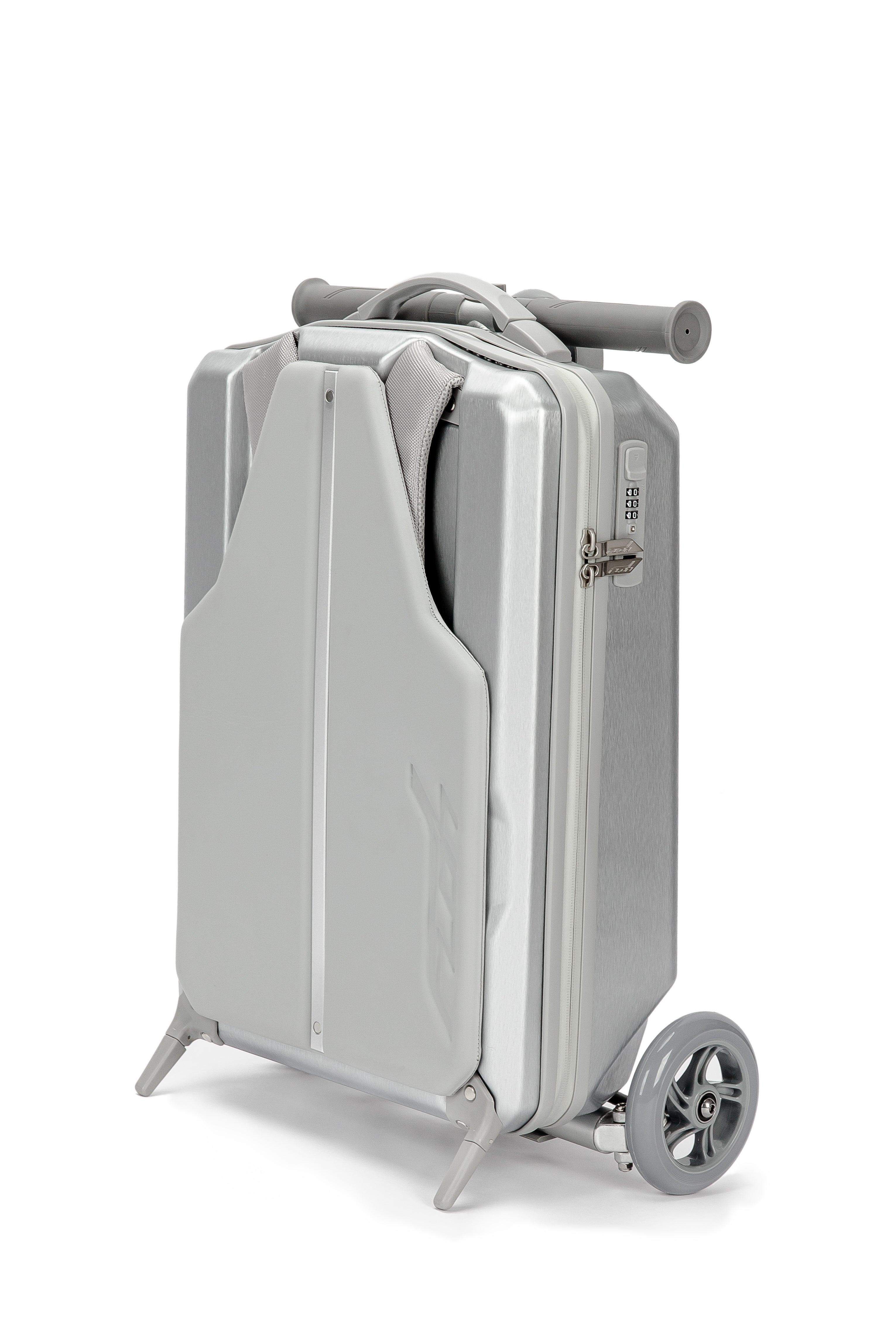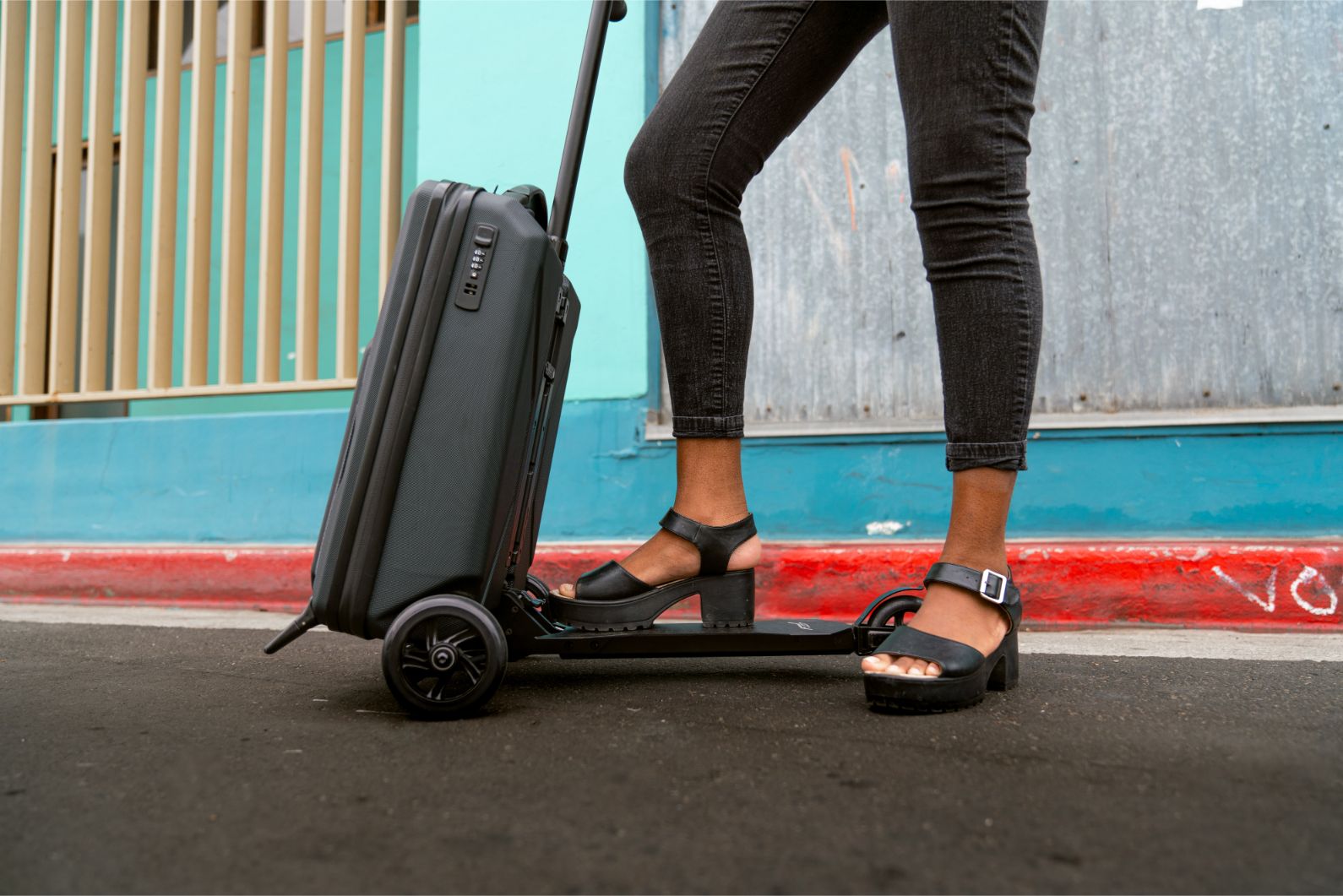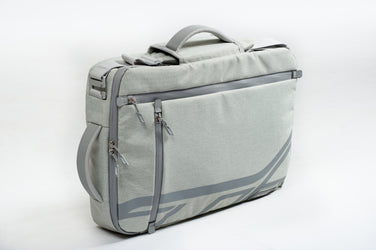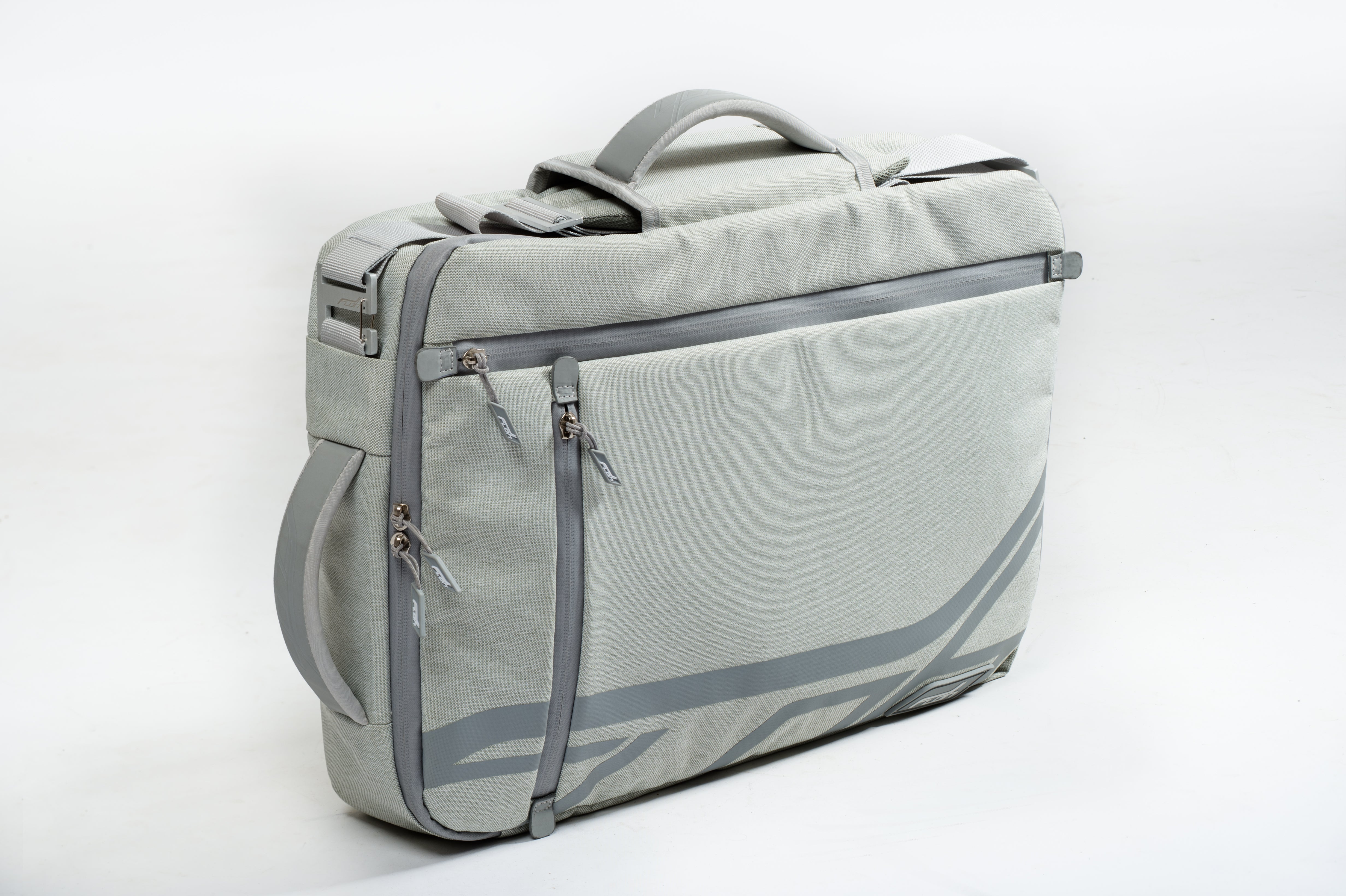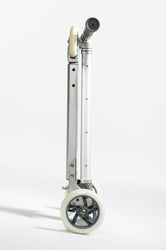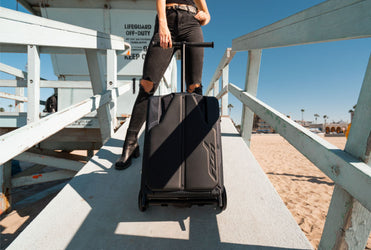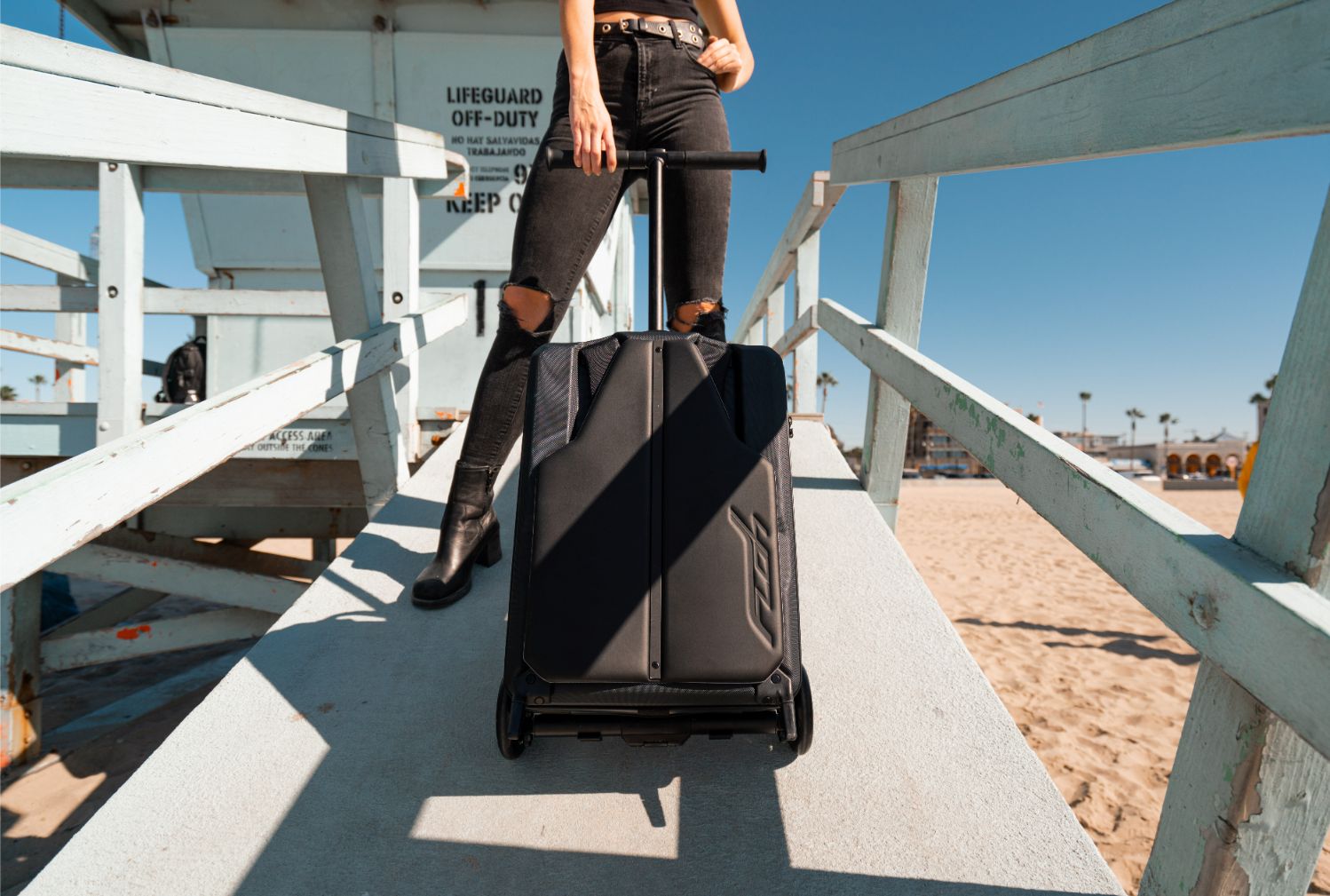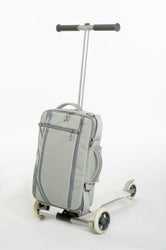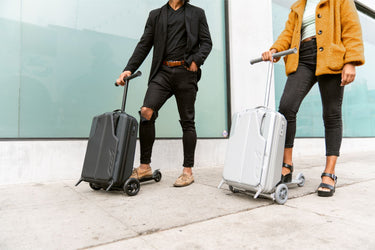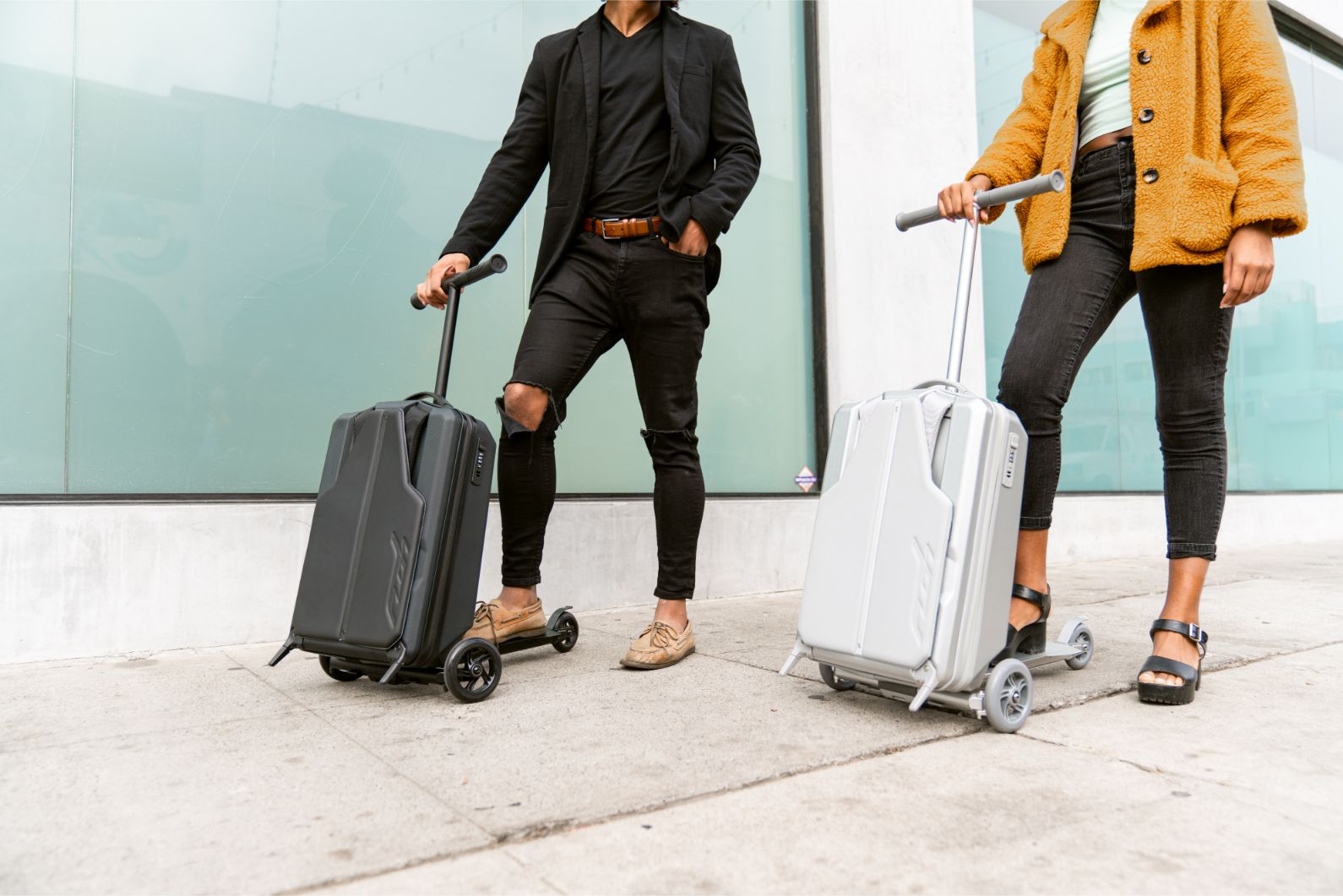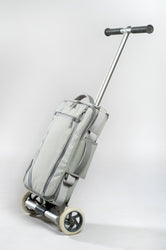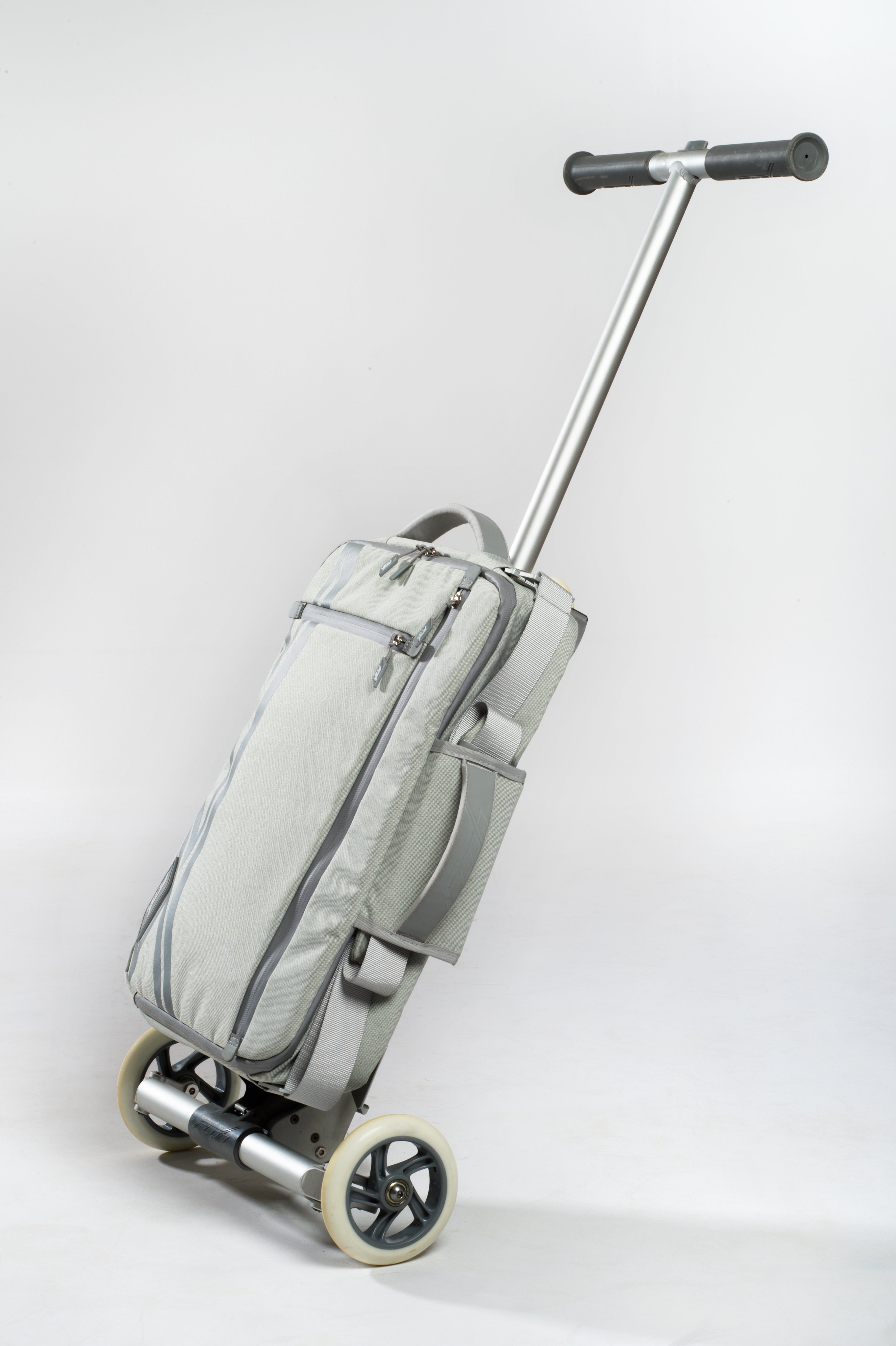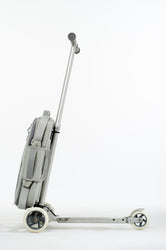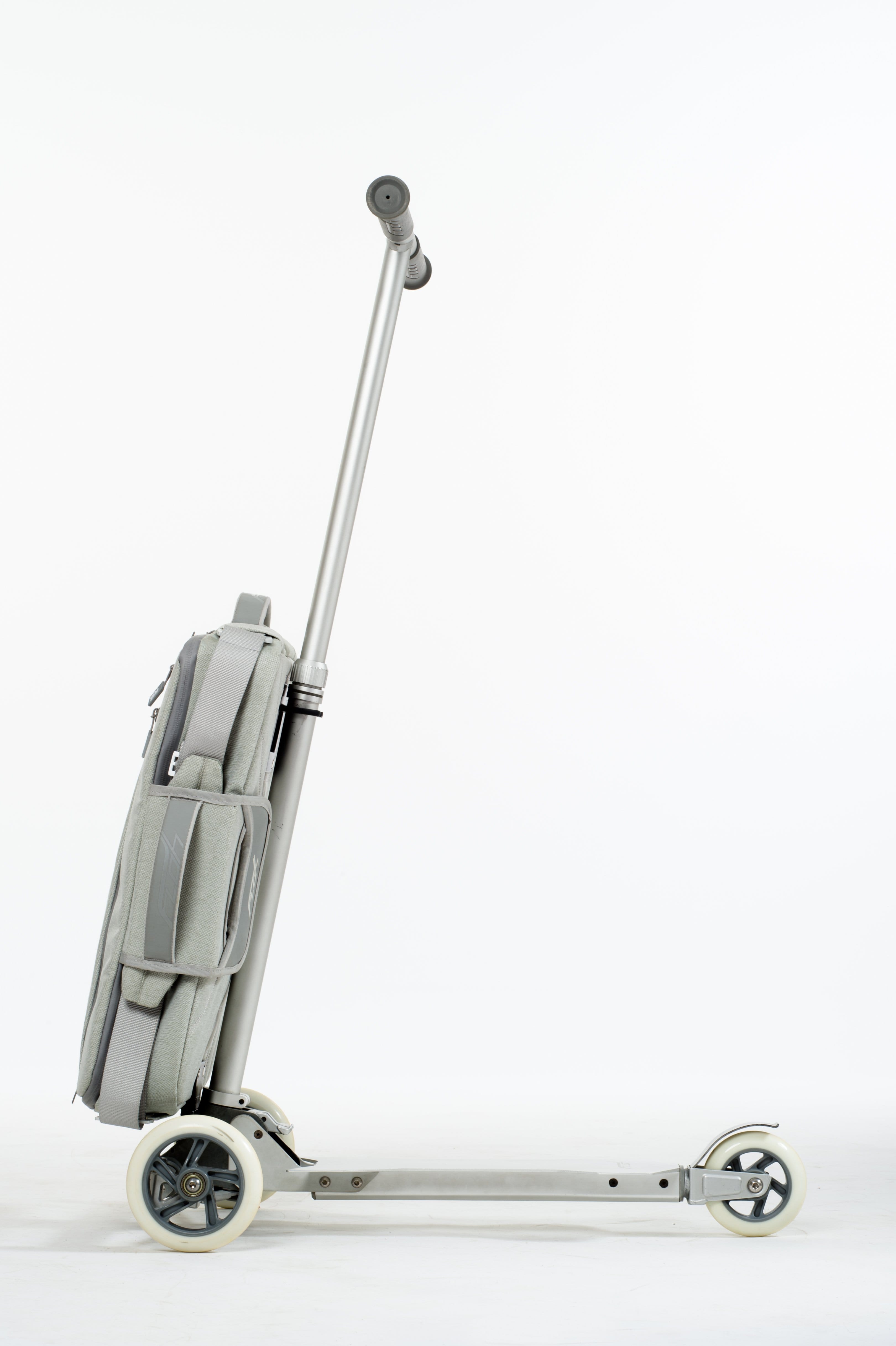 Experience the ultimate in travel convenience with our Floh Silver Scooter with Suitcase. This innovative and stylish luggage solution combines a suitcase and a scooter, making it the perfect choice for adults, seniors, teenagers and kids on the go.
With the included Weekender carry-on backpack, Drive Module (Kickscooter), and Messenger Bag, you'll have everything you need to take your adventure to the next level. Whether you're flying to distant lands and travelling through large airports, commuting to work or working at a fair, this scooter luggage is designed to make your journey as smooth and effortless and fun as possible.
The suitcase with scooter features a durable and spacious interior that can hold all your essentials, and the sturdy inline scating wheels top of the line bearings and extendable handle (3 levels)  make it easy to manoeuvre through busy airports and crowded trade fairs. The messenger bag offers convenient storage for your computer and everyday essentials. It weighs less than 1 kg.
At Floh, we're committed to providing our customers with the highest quality scooter luggage on the market, and our Silver Scooter with Suitcase is no exception. With its sleek and modern design, premium materials , and innovative features, this scooter luggage is the perfect choice for anyone who wants to travel in style and comfort.
Each FLOH comprises:
1x

Weekender

Carry-On backpack 

1x Drive Module (Kickscooter)

1x Messenger Bag 
WEIGHT (Gross): 8.8 kg
WEIGHT (Renegade): 4.7 kg
DIMENSIONS: 62.5 x 43 x 24 cm
VOLUME(Renegade): 18 L
COLOURS Black, Silver
BUILD (Renegade): Hardshell
MATERIAL (Renegade): Sturdy Polycarbonate + Foam
WATER REPELLENT: Yes
SHOCK RESISTANT: Yes
LAPTOP COMPARTMENT: Yes (Up to 17")
STEERING: Ackermann Steering
WHEELS: 110 mm, Rubber with APEC-9 Ballbearings
MAX CAPACITY: 120 kilogram
DECK DIMENSIONS: 
DECK MATERIAL: Airplane Grade Aluminium
FREE SHIPPING WORLDWIDE
Typically, orders are dispatched within 72 hours after we receive them.
Please allow up to 7 more working days after that for your order to arrive. If more than 10 days have passed please email us at info@floh.com to review the status of your order.
You have the right to cancel this contract within 14 days without giving any reason. The cancellation period will expire after 14 days from the day on which you acquire,or a third party other than the carrier and indicated by you acquires, physical possession of the last good.